About Billy's Bakery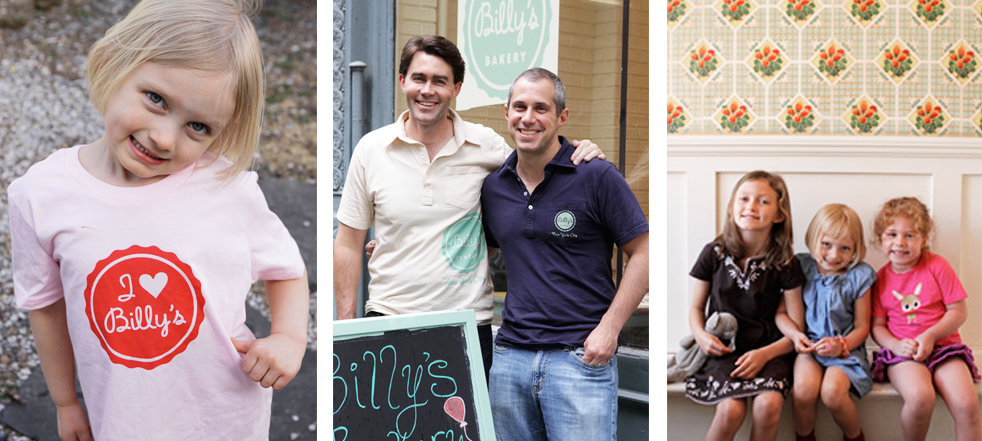 To Our Beloved Customers,
Thank you so much for eighteen years of love and support. We truly cherish our neighborhoods and it's hard to believe we've already been here fifteen years! It means everything to us that you've embraced Billy's and made us a part of the local fabric. Thank you!
As many of you know, we met in school about 25 years ago (but who's counting) with a pretty simple idea—to provide delicious moments and treats from your local neighborhood bakery.
Each day at Billy's, everything is still made from scratch. From our (pretty well known) Icebox Cake to our (pretty darn well known) Red Velvet Cupcakes—it's as real as our grandmothers used to make. For us, that smell when you walk into a real local bakery is almost as important as the taste. And we're never going to lose that. For Billy's, it's all about real ingredients, authentic recipes, and real people making it happen.
Stop by our shops in Chelsea, Tribeca, and on the Upper West Side and let our family take care of yours. Join us, as we Celebrate Homemade.
Sincerely,
Co-Founders Marc & Wayne
Customer Testimonials
Dude, I love Billy's bakery. I know there's a ton of other bakeries nearby, but how can you resist the overwhelmingly cute seating area, amazingly perfect cupcakes, AND their delicious and NOT overly sweet cookies? I think Billy's has some of the best cupcakes in Chelsea, plus I like that it's a small business with bakers that seem to really care about the quality of their desserts.
-Kelly E.
Every time I come to Billy's I find something new to love! The staff is friendly and accommodating, and it always feels cozy in this shop. I especially love the apple pie, although it's only seasonal. I also love the lemon cupcakes, and the butterscotch ginger cookies. All thumbs up!
-Dove C.
I stumbled across this cute bakery one day and was so pleasantly surprised by the wide selection of baked goods this little shop carries! They have a large variety of cupcakes and cakes as well as pies. I tried the banana pudding which I thought was very creamy, but not the type of creamy that makes you feel sick after. 
-Sherry S.